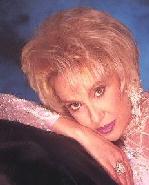 The AFE site's Fan Interview has the question "If Gary released a country and western album, would you buy it?". Most of the answers are unprintable, even on this site, but one fan who most certainly would have bought it was Tammy Wynette. Ms Wynette tried hard to sing like Gary, but sadly she had to sing country songs because no matter how hard she tried she just couldn't get that twang out of her voice. Although she was unable to sound like Numan, she was able to write songs about him, including the world famous hit "Stand By Numan". This song, written just after Machine and Soul was released, exhorted Numan fans to keep the faith and to rally behind Gary :

Stand by Numan

Sometimes it's hard being Gary Numan
Making CDs for so few fans
Now he's nearly bankrupt
And his label's defunct
He sure could use a helping hand

Stand by Numan
He needs some fans to cling to
And someone warm to shag, too
When nights are cold and lonely

Stand by Numan
And tell the world you love him
Ignore their laughter if you can
Baby, stand by Numan.